I am killing three birds with one stone with this story for it will be both my entry in the FOWC one word challenge and the 3TC challenge and suffice as a rather interesting story for those of you who just read my blog.
If you live in the country you may be more aware of the stories of fairies and hobgoblins, a tree or bush can hide a multitude of things, an elf, or a fairy for who knows what lives at the bottom of the garden.
This is the story of the art of deception by two young girls, sixteen year old Elsie Wright and her nine year old cousin Frances Griffiths who lived in the village of Cottingley near Bingley in Yorkshire.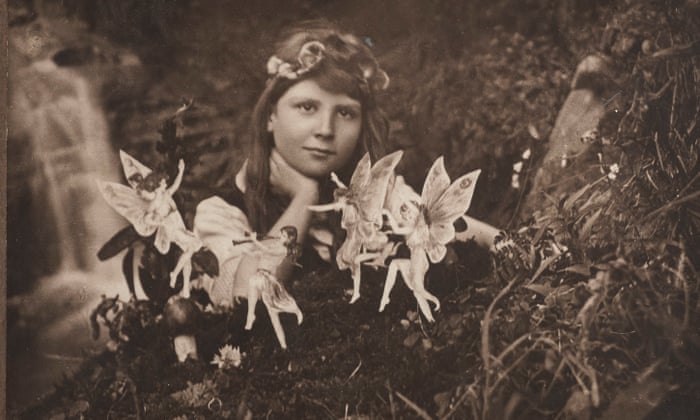 The two young girls believed in fairies and set about to prove their existence by borrowing their father's quarter plate camera and set up their scenes with the use of hat pins and coloured paper cutouts near the stream at the bottom of Elsie's garden.
As you can see, so convincing were their images that even eminent figures such as Sherlock Holme's creator, Sir Arthur Conan Doyle were hoodwinked into believing the images were true.
The photos were taken in 1917 and Elsie's father, a keen amateur photographer developed the prints and was not deceived by the images, however his wife Polly always believed in their authenticity.
In 1919 she took prints to the Theosophical Society in Bradford where they were giving a lecture on fairy life and from there things spiralled out of control.
It was during 1920 that Conan Doyle who was a committed spiritualist became aware of the photographs and wanted to use them for an article on fairies he had been commissioned to write for the Strand Magazine.
Following the publication of Conan Doyle's article great controversy raged with leading scientists of the day arguing whether the prints were real or fake for many a year.
I have to say they are rather splendid images and call me a sentimental old duffer but I'm quite happy to go along with the view that they are real as I so seldom go to the bottom of the garden, for all I know they could be there dancing about as I write.