The Word of the day challenge is fire, the subject of which immediately shot into my mind however I must warn readers that the subject matter is a little shocking perhaps.
My post today concerns the work of Archie McIndoe and his work at Queen Victoria Hospital in East Grinstead, Surrey and his amazing and at the time ground breaking experimental reconstructive plastic surgery.
In 1941 The Guinea Pig Club was formed as a social club and mutual support network for British and allied aircrew who were injured by fire during World War Two. The fact that it was a drinking club was somewhat controversial as allowing patients to drink, sing and play the piano was definitely not the conventional route for recuperation at the time.
One of the most important developments was the walking skin graft whereby a pedicle of skin which had a blood supply was kept attached to a graft to keep the supply of blood to the injury and therefore keep the graft alive. The use of salt water baths was also used as they noticed it was beneficial to healing from observations from the airmen who had landed  in the sea.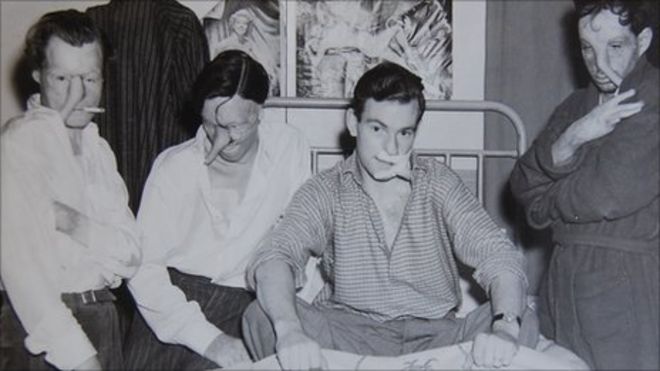 The Guinea Pig Club had its own anthem which was sung to the tune Aurelia by Samuel Sebastian Wesley also known as the hymn The Church's One Foundation.
We are McIndoe's army,
We are his Guinea Pigs.
With dermatomes and pedicles,
Glass eyes, false teeth and wigs.
And when we get our discharge
We'll shout with all our might:
"Per ardua ad astra"
We'd rather drink than fight.
John Hunter runs the gas works,
Ross Tilley wields the knife.
And if they are not careful
They'll have your flaming life.
So, Guinea Pigs, stand ready
For all your surgeon's calls:
And if their hands aren't steady
They'll whip off both your ears.
We've had some mad Australians,
Some French, some Czechs, some Poles.
We've even had some Yankees,
God bless their precious souls.
While as for the Canadians –
Ah! That's a different thing.
They couldn't stand our accent
And built a separate Wing.
We are McIndoe's army,
(As first verse)
Amazing work by some extremely clever surgeons and some very courageous airmen, well done those men. "Per ardua ad astra."